Using a Goo Escorts to Find an Escorts in London
18 August 2023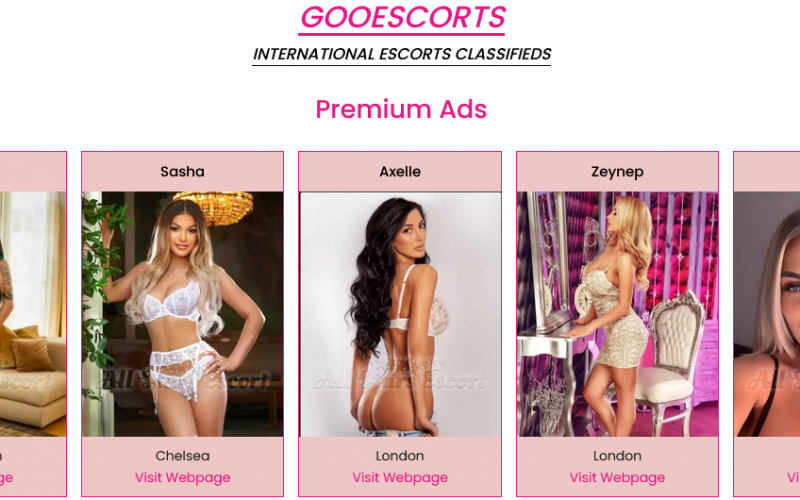 Finding escorts to fulfil your desires and fantasies is not that difficult if you know where to look. Today, many people turn to online adult directories to find an intimate companion. So, if you are in London and want to find seductive and sultry escorts, you too can use escort directories to find the perfect escorts.
One of the best escort directories that you will find is Goo Escorts. It is a leading directory in London and offers access to agency and independent escorts. The user-friendly interface makes it very easy and quick to find escorts in London. In case you are not family with Goo Escorts, here is how you can use to find delicious-looking escorts, who serve clients across London.
Check the Homepage
When you visit the homepage, you will Premium and Featured listings. The pictures that you see here are of London escorts who are the crème de la crème of the London escort world. These escorts are both agency and independent escorts.
The pictures show the name of the escort along with the place they serve. That makes it easy for you to select the escort who you think is right for you. However, it is best to click on the picture of the chosen escort. That will take you to the profile page of that escort, where you will be able to find more information.
The profile page provides the phone number using which you can book an appointment or you can click the website link to find out more about the services that the escort offers. Getting more information on an agency or independent escort in London is always a good thing as it will help you select the perfect escort for the things you have in your mind.
Find Escorts Using the Search Option
Another way that Goo Escorts enables you to find your dream escort is by using the search option. You can filter your search by country, state, or city. When you put London in the search box, you will have access to premium, featured, and regular listings.
In premium and featured listings, you will be able to see the photos of the escorts and that makes it easier to select one. On the other hand, regular listings are text-based and you will have to click each text to reach the profile of the escort.
Convenient and Simple
You can also register as a member at Goo Escorts to receive the latest news or when new escorts promote themselves. That way, you will have faster access compared to regular visitors and will be able to book an escort before anyone else.
Finding elite escorts in London is no longer a time-consuming and tedious affair. Goo Escorts makes it simple, quick, and convenient to find escorts serving clients in London with a few simple clicks of the mouse. So, go ahead and find your dream escort and live your fantasies and desires without worries.